Whether traditional investors like it or not, Bitcoin and crypto currencies are having major impacts on the real estate market. Since 2009, Bitcoin has given regular individuals the power to avoid financial transactions and fees from banks. Bitcoin and its use as a form of currency, have been used in everything from buying events tickets, groceries and even real estate.
How does Bitcoin work?
Bitcoin transactions involve the use of blockchain technology in order to allow anonymity to its user. All that one needs to get started in using Bitcoin is a Bitcoin wallet installed on one's mobile device or laptop, through which one can send or receive money. By using the blockchain technology, a shared public ledger that supports the network, Bitcoins are sent between individuals in the form of private data.
This all to say that Bitcoin is a safe, reliable and extremely lucrative commodity which has grown in popularity over the years. What was once worth a few pennies and traded amongst friends or strangers on the internet has topped out at approximately $61,000 per Bitcoin this month.
Real Estate's new platform
Bitcoin, through its decentralized ledger bypasses the middleman. Allowing buyers and sellers looking to enter a transaction in real time to improve the speed by which these transactions occur. Additionally, while the use of Bitcoins as the entire vehicle of sale remains rare, homes and properties have been purchased since 2017 using the BitPay wallet, as a speedier and cheaper method to do transactions.
Taxes
As of Jan. 1, 2018, the federal government has a new position on cryptocurrencies, saying that the blockchain-based currencies will still be hit with capital gains tax on the amount their bitcoins appreciated since they were purchased or mined.
That being said, the appreciating value of Bitcoins, especially in recent months, and allowing for a process that avoids having to pay bank or transaction fees, have made them a hotly growing commodity within the real estate world. By reducing the fees, the use of Bitcoin gives more opportunity for "fractional ownership," or allowing investors could buy and sell fractions of their real estate tokens instead.
Preventing Fraud
Because of the way the system is set up, between the anonymous accessibility and low transactional fees associated with each Bitcoin, blockchain technology creates a fully certifiable digital identification. The identification can offer a more current and reliable proof of funds that is reliable for everyone from hard money lenders; to sellers, to buyers, and can be used for everything from mortgage payments, to deed transfers, to escrow or several other financial scenarios.
From Bitcoin to Real Estate
The nature of Bitcoin as a tool of real estate investment is growing ever closer, with smart investors seeing a benefit to having two assets in their diverse portfolios that continue to bring them strong returns.
At Sunset Equity, we have allowed investors to quickly transition their earnings, whether in blockchain or in other real estate investments, into further property acquisitions and earnings. Our product lines also assist investors with everything from fix-and-flips, to refinancing, to ground-up construction.
The unwavering reliability and speed of our qualified representatives gives our clients an assurance of a fast close with minimal fees. We can offer up to 90% LTC and 100% construction, and 80% LTC for first time flippers. More importantly, the buyer can utilize their bitcoin investments to bring to escrow.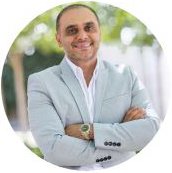 Benjamin Donel, CEO