Sometimes, workplaces get it right.
Sunset Equity Group has made Inc. 5000's "Fastest-Growing Private Companies" list for 2021, a piece of recognition that underscores the values of a company that strives to keep its team of people in mind when considering things like how business is conducted, team building, and mental health.
Founded by Benjamin Donel in 2005, Sunset Equity Group has guided companies and individuals through the intricacies of investing in and developing properties for over two decades. As a mentor in the real estate industry, Donel has hosted numerous seminars and talk shows and has authored Invest in Your Future, A Step-by-Step Guide to Trust Deed Investing for Financial Security.
Meticulousness and expertise are in Sunset's DNA. Regulated under the Department of Business Oversight (DBO), our level of transparency with investors is unparalleled, allowing them to audit our financials at any given moment. We also take great pride in providing big production with a boutique feel, offering borrowers the best of both worlds. Unlike others, we do not have a "one-size-fits-all" approach and focus on customizing loans based on unique and individual scenarios presented by prospective borrowers. We one stop shop offering residential fix and flip, construction and commercial, and amazing 30-year investor loans.
But what's all work without play?
Team building and a commitment to our talented staff is what sets us apart from our peers. From encouraging out-of-the-box thinking to promoting teamwork and collaboration, our strength lies in utilizing the talents of everyone on our team, inspiring an ongoing commitment to each other and to high-quality work through unique office perks like rooftop yoga, Friday evening BBQ, weekly bike rides, and other group gatherings that encourage comradery.
Our commitment to our investors is an extension of the commitment we've made to our team because we know that any company is as good as the people it not only hires but retains. Inc. 5000's recognition of Sunset Equity Group's rapid growth is evidence that we've taken the path toward excellence through our product, Personnel and exceptional service
Sunset Equity Group would love to be partners in your success, and it would be a great honor to serve you with your next investment opportunity. Contact us today to speak with a qualified lender.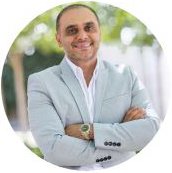 Benjamin Donel, CEO